Flappy Frigging Santa – A Christmas Special Exciting and Addictive Game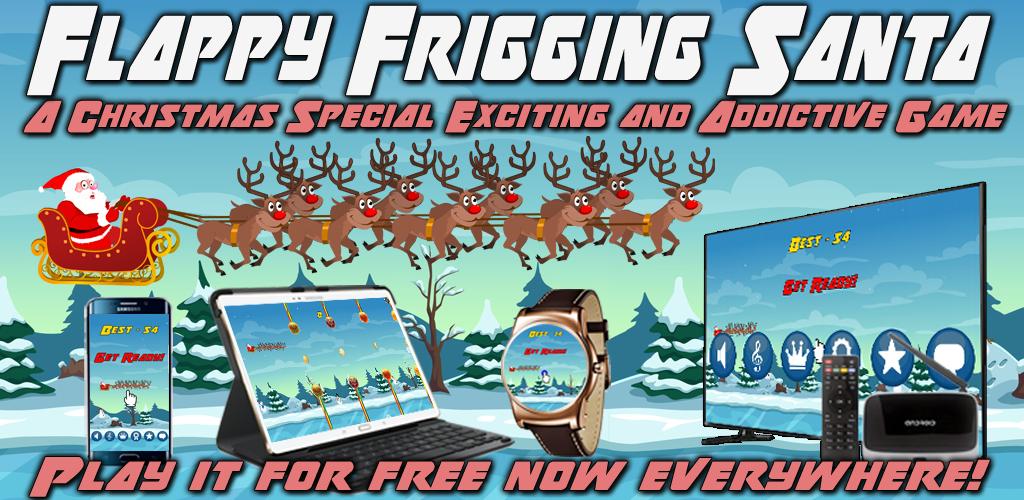 Wouldn't you love to do fun things for this Christmas, along with your friends and family? Well, how about enjoying the Christmas adventure of Flappy Frigging Santa, the top trending Android game in the market. Play as long as you want for FREE! You don't have to pay any hidden fees or special memberships to enjoy the best free arcade game ever. Your objective is to guide Santa Claus and let him collect coins without mistakes. Keep in mind that you will have to avoid some obstacles that you will find in your way. This is an addictive hopping game that will let you play for hours non-stop! Come let's check the game play, features, and supported devices.
Game play
There are lots of successful arcade games on the market. However, very few of them can boost the success of this addictive Santa Claus game that has taken the whole world by the storm. With amazing graphics and awesome sound, Flappy Frigging Santa is an endless tap game with unlimited fun and adventures. We bring you back your favorite tap game with Flappy Frigging Santa that is even more challenging than flying a small flappy bird. Santa uses reindeer ride for crossing various obstacles to deliver jaw-dropping Christmas gifts to the good souls. Don't forget to collect the coins and earn the maximum points to stay on the top of the leader-board. The game is very challenging. You have to score points and compete with the top players from around the globe and check out where you stand among the global players. The game will never let you get bored and will make your Christmas celebration exciting. Keep up your focus, balance the Flappy Santa and remember to keep up your patience to avoid the pipes that come along the way. Tap on the screen at the right time to fly from in between the pipes. The game is perfect for players from all ages kids to teens to adults. This is the best of all the Flappy Games with increased challenges and adventures. Download it for FREE and play the most addictive floppy game ever created! How far can you go in this brain challenging game and help Santa Claus reach home?
Game Features
• Addictive game-play that will keep you playing for hours! You need to play several times to get the mechanic right.
• Playing this game is very simple! Even small kids love to tap the screen to see how the Santa Claus flyes. There is just a simple rule: tap to jump highly and avoid obstacles. Our Santa Claus will fall if he hits any obstacle.
• Keep in mind that you have to collect as many coins as you can to score the highest score.
• You can check your personal best score, but also the Score Board integrated with Google Play Games service to compete with your family and friends.
• The game has high definition graphics and it is designed with an awesome winter background with falling snow and the lovely Santa Claus in the red & white suit.
• The beautiful sounds and background music (with settings) make the game more addictive not just to kids but also to the elders.
• Share your achievements and scores to prove your gaming skills.
• You can play this game off-line.
Supported Devices
The game is designed to run on Android phones, tablets, smart watches and Android TV. Yes, you heard it right, Smart Watches and Android TV, I love watching Santa Claus on the big screen. The game portability specially makes the gamers feel comfortable to play with any screen resolutions and model. It supports all versions of Android OS/device available in the market.
Give Us Your Rating Please! ?????
We are constantly working hard on making this game better and more entertaining for you. Please feel free to give us feedback with any queries/suggestions/problems. If you have enjoyed any feature of the game, do rate us on play store and share among your friends.
So you're super excited to the play the game, right? Install the game right away!